Zoom the image with the mouse
Strongest Mobile Stand
Riders are viewing this product
Safest Phone Holder You can Buy Now

Accessories are the most stolen bike equipment. But, not anymore. Buy our universal Bike Phone Holder and stop worrying.
Anti-Theft Screw: 
This is the best feature of our premium phone holder for bike. The screws can be tightened and opened using the provided screw fixer only, keeping the thieves away as they won't have anything to open this accessory from your beloved bike.
Built-in Dual Retention Locks:
It keeps your smartphone firm and the holding power to maximum, ensuring the top-notch safety is delivered.
Aluminum Frame:
The aluminium frame makes it strongest phone holder for bike, ensuring safety of your device.
360-degree Adjustable:
You can adjust the holder to an angle which suits your view and set it anywhere around 360-degree.
Universal smartphone support:
Our bike holder supports all smartphones, regardless of size, operating system and weight.
Mounts to any bike:
Our bike holder can be mount on any bicycle as it universally fits all handlebar that is 7/8″ to 1-1/4″ (22.2mm – 31.75mm). It can even be mounted on motorcycle handlebars.
Anti-Theft Mounting Mechanism – Watch in Action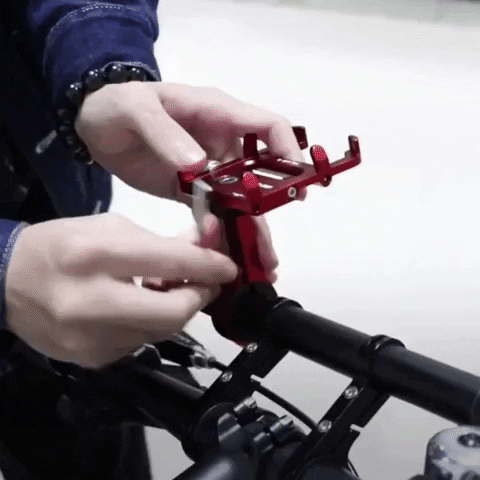 Accessories are the most stolen equipment for most bikers. It is almost a right of passage for new commuters to lose a set or two of accessories before they find a way to secure or remove their accessories. Hopefully you got a chance to read this before you lost your first set. You don't like to remove accessories at every stop, so our Premium Bike Phone Holder have Anti-Theft screw to secure Mobile Phone Holder. Watch it in action!
Never Worry About Your Phone Again While Riding
Where do you place your phone while you're riding?
In a Backpack ?
In Your Pocket?
There are many ways to store your phone while riding but to be honest, almost all of them make it hard to reach out to your phone in case to check out Maps, GPS, music etc.
So, we came out with a simple solution, a Phone Mount, we made it better than most of the phone mounts in the market. We made it by using full stainless steel in order to hold your phone securely while you're riding. Your phone will never come off the phone mount while you're riding.
We also made it 360 degree rotatable, so that you can use your GPS, Music or tracking app in either vertically or horizontally. That's super cool right!
Why make your next ride uncomfortable when you don't have to
Click the Add To Cart Button to Get Yours Now!
Specs:
All Metal Construction - No Cheap Plastic
360 degree rotation giving you the best view of your phone
Indestructible & Anti Theft
Fits most phone, ranging from 55 mm - 100 mm wide 
Most of the phones out there can be fitted on our Bikering phone mount. Your phone will be protected too as there's an anti scratch.
Everything Included to Install
All the parts for the handlebars mount are included, you don't have to waste any extra time and money buying or finding the parts. It's all included in the package to fit around handlebars from 7/8 - 1-1/4 inches.
Installed in minutes - It's one screw and everything is included right down to the Allen key.
Decide if you want to answer the phone when you're riding, at least you know someone is calling you in case of anything emergency, often times people just put their phone in the bag and not noticing it until they reach their destination. So, you can either ignore the call or pull over to take that important phone call.
Compatible with Motorcycles, Scooters, ATVS Bicycles, and E-Bikes 
Bikering phone mount can be fitted on Motorcycles, bicycles, scooters, E-bikes and even your ATVs. As long as the vehicle has round handlebars between 7/8- 1-1/4 inch diameter.
Fits phones up to 100 mm wide 
360 degree turn radius 
Sits 2 inches off your handlebars freeing up valuable space
All metal construction provides excellent durability
Easy to install – its just one screw
Tool included for installation
Will not scratch your bike or phone
Fits securely on your handlebars
Fits round handlebars with 7/8 inch, 1 inch, or 1 ¼ inch diameter bars
Compatible with Motorcycles, Scooters, Bicycles, and E-Bikes 
*Tools are included in the package.
FAQ
(Frequently Asked Questions)
How secure is this phone mount for bike?
The phone mount is made of aluminium, tightening screw gives your smartphone the sturdy grip it requires. No matter what kind of road you're riding, your phone will be safe on this mount.
Does it scratch my Smartphone?
It comes with rubber grip which will keep away scratches from your smartphone and hold tightly on bumpy rides.
Does it support my bike handle bar?
This bike holder diameter is 31.8 mm / 1.3 inch and adjustable via screw which suites all handlebars.
Will it support GPS while riding?
Yes, you can either use the phone for GPS or for reading texts or attending phone calls while riding.
Can I rotate smartphone while using the mount?
Yes absolutely! You can rotate horizontally or vertically, any position as this bike smartphone mount is 360-degree rotatable.
Does this bike mount support Smartphone?
Yes, this awesome bike mount supports all available Android Smartphones and all iPhone models. It is 100% compatible bike mount for iPhone 11 Pro, iPhone 11, iPhone X, iPhone Xs, iPhone 8, iPhone 7, iPhone 6, etc.
THIS PRODUCT IS A LIMITED PRODUCTION, AND IS NOT AVAILABLE IN STORES. Selling Out FAST!